2021 Nissan Armada Gets a Modern Makeover
|
Mid-cycle enhancements to the Armada's infotainment, active-safety tech, and more leave Nissan's posh full-size SUV feeling the same but better.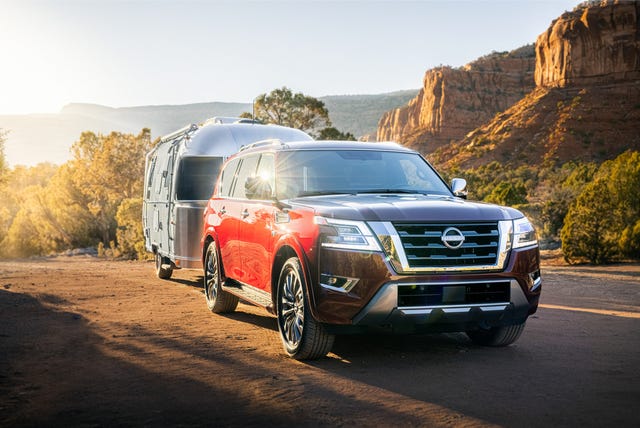 Going into its fifth year in production, the second-generation Nissan Armada was beginning to feel a bit tired next to the newer full-size SUVs in in its segment, such as the Ford Expedition and the even-fresher 2021 Chevrolet Tahoe and GMC Yukon. Nissan understands this and has updated its big ute with some meaningful improvements for the 2021 model year. While the relatively modest changes don't amount to game-changing enhancements, they do make the Armada more functional and attractive—and that's okay because it already was pretty nice to begin with.
Nissan started by improving the Armada's curbside appeal with a new front end that features a more aggressive nose and angular LED headlights, plus a revised tail with a more stylish hatch and taillights. Inside, the interior has been spiffed up with a simpler center stack and a 12.3-inch infotainment touchscreen with crisper graphics, while a new 7.0-inch full color display now sits between the analog speedometer and tach. Also standard is wireless Apple CarPlay and Android Auto, although you still need to connect the latter setup with a cord. Map data and software can now be updated via an onboard Wi-Fi hotspot. And a neat feature of the Armada's revised center console is that it can be opened from the front or the rear, making it easier for second-row riders to access.