Even if summer is over, it is always the right time for a new adventure. 4 Technique offers you its interesting camping solutions.
ARB – ROOF TENT KAKADU model
From the name difficult to translate into Italian (we would have called it "the aired") this tent has the unique feature of having 4 huge openings that allow strong ventilation even for fields in the hottest climates.
The large top cover creates the classic umbrella effect giving strong shade in the sun. The combination of shade and ventilation allows you to take a "siesta" even in the middle of a sunny day. In addition, the upper polyester cover, extending conspicuously beyond the perimeter of the tent, guarantees safe protection from the rain. This tent obviously has the possibility of being completely darkened by means of flaps rewound inside, allowing complete isolation from light, as well as mosquito nets which are also incorporated and can be used by means of a zip. The materials used are aluminum, polycarbonate, nylon, polyester and cotton. The weight of the tent is less than 45 kg.
Measures: open 140 x 240 x 130cm – closed 140x 120x40cm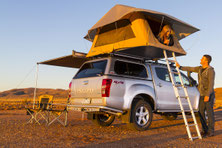 ARB – ROOF TENT SIMPSON III model including under tent
Ideal for itinerant camping, the SIMPSON III roof tent, of high quality and workmanship, opens easily in a few minutes. Very comfortable thanks to the internal spaciousness, it is resistant to air, water and mold and is equipped with a double roof covering and the double bottom, aluminum top with removable 65 mm foam, it is highly insulating while maintaining a very low weight. The windows are all equipped with an insect net. The tent, with the vehicle in motion, is enclosed in a PVC bag which increases its resistance to weathering over time. Furthermore, this cover remains attached to the awning, saving considerable time during the opening and closing phases. The veranda, included in the price, can be easily removed and is of large size. Measures open: 140x 240 x 130cm.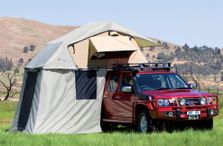 ARB – 2×2.5 m AWNING
Easy to install and assemble, the retractable ARB awning is fixed on the side of the roof together with the storage bag which allows immediate use when needed. Made of light weight material but resistant to rust and atmospheric agents.
Upper layer in PVC resistant to water and UV rays
Self-rolling in 30 seconds
Container bag in resistant PVC
Mounts on most vehicles or on the most common bars
Height adjustable by feet
Mosquito net (optional)
Complete with assembly instructions and anchor ropes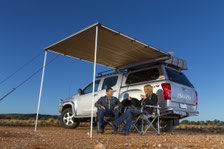 ARB – SIDE WALL FOR AWNING 2.5×2.5 m
It can act as a side cover for more privacy when camping or to shelter you from the wind. The lateral extension is made of high quality material with UV protection, waterproof and anti-mold. Save space and buy the side wall for your awning.
Awning walls 2-814200.
A room for your awning? The perfect accessory is the "house" to create a private space sheltered from the weather. Equipped with doors and windows with mosquito net. Hardened steel pegs supplied to anchor it firmly to the ground with adjustable straps.
ARB – MOSQUITO NET WALLS FOR AWNING 2×2.5 m
Do you want a comfortable area to eat and relax without having to worry about annoying insects? This mosquito net curtain includes a sturdy protective bottom. Hardened steel pegs supplied to anchor it firmly to the ground with adjustable straps.